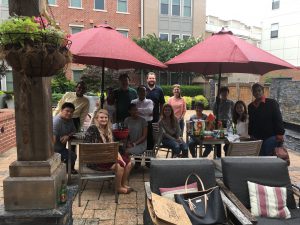 Come be a part of a dynamic team of individuals who are passionate about IT innovation and solutions. With a variety of opportunities open, we are growing and we want you to be a part of something great. You can apply using the Career tab listed in the top menu.
Business Development Manager (Fairfax, VA)
PSI INTERNATIONAL, Inc., an established information technology (IT) company that focuses in health and social sciences business at the federal, state and local government levels, has an immediate opening for a mid to senior level Business Development Manager with responsibility to identify, qualify, and close new business opportunities. The individual will be assigned to civilian and DoD Health agencies to pursue niche opportunities selling IT and subject matter expert services and solutions.
Candidates must possess at least four years of successful experience selling services and solutions to the Federal Government, be experienced with the Federal acquisition process and regulations, be comfortable in all aspects of the sales cycle, have excellent prospecting skills and a strong established business network. Candidates must also have excellent oral and written communication skills and be able to work independently with little or no direct supervision. Preference will be given to those candidates with experience at HHS (including NIH, FDA and CMS) and DoD Health Affairs.
Safety and Pharmacovigilance Associate (Bethesda, MD)
PSI INTERNATIONAL, Inc. is seeking a Safety and Pharmacovigilance Associate who is a dedicated team player to join our Bethesda, MD team. The Safety and Pharmacovigilance Associate will manage and process reports of serious adverse events (SAEs); assist in the preparation of reports; generate specified data reports from the database; process and review investigator safety reports and notifications for non-IND adverse event reports; process and review safety narratives for IND and non-IND Adverse Event cases as required; maintain electronic files for the department; and query SAE databasesRequirements include a B.A./B.S. degree in a relevant field, MS degree in related field a plus, 0-5 years of pharmaceutical, biologics, and/or diagnostic experience, as well as excellent oral, written, and computer skills including database experience. Experience with medical terminology is preferred.
Accounting Manager (Fairfax, VA)
PSI INTERNATIONAL, Inc. an information technology services company is currently seeking an Accounting Manager for its corporate headquarters in Fairfax, VA. The individual will oversee the Accounting Department, be responsible for the overall maintenance of the Deltek and ADP accounting system, the preparation of financial statements and cost proposals, DCAA indirect submissions, coordination of annual independent audits, and other special reports at the discretion of the CFO. Candidate must have a BS/BA degree in Accounting or Finance, at least 5 years progressive Accounting, familiarity with Deltek Accounting and ADP Software including payroll, accounts payable, etc. through general ledger, familiarity with government contracting and cost accounting, and strong working knowledge of Excel. Strong organizational skills and excellent communication and interpersonal skills are also a must.
Accounting Specialist (Fairfax, VA)
PSI INTERNATIONAL, Inc. is seeking an Accounting Specialist for their Headquarters office in Fairfax, VA. The individual will provide accounting support to major financial accounting areas, including accounts payable, accounts receivable, general ledger and account reconciliation.
Primary Duties and Responsibilities may include:
• Provide timely and accurate payment processing by processing accounts payable checks semi-monthly.
• Input credit and debits to the accounting system in support of the payables work.
• Develop and maintain reports and files on the Accounts Payable processing.
• Input general ledger entries for account changes.
• Prepare vouchers, invoices, account statements and reports with various registers.
• Develop and maintain reports and files on asset and liability account balances.
• Develop and maintain regular reports via the company's accounting system.
• Provide backup support to Payroll when needed.
Knowledge, Skills, and Abilities Required:
• Bachelor's degree in accounting or equivalent work experience
• 2 – 3 years experience in Accounting or Accounts Payable
• Must be familiar with the Deltek accounting system
• Knowledge of accounting rules, regulations, policies and procedures reflective of the government contracting industry
• Working knowledge of MS Office Suite; strong Excel skills
• Excellent oral and written communication skills
PSI INTERNATIONAL, Inc. is an Equal Opportunity/Affirmative Action employer. All qualified applicants will receive consideration for employment without regard to race, creed, color, religion, sex, age, marital status, national origin, citizenship status, disability, or protected Veteran status.