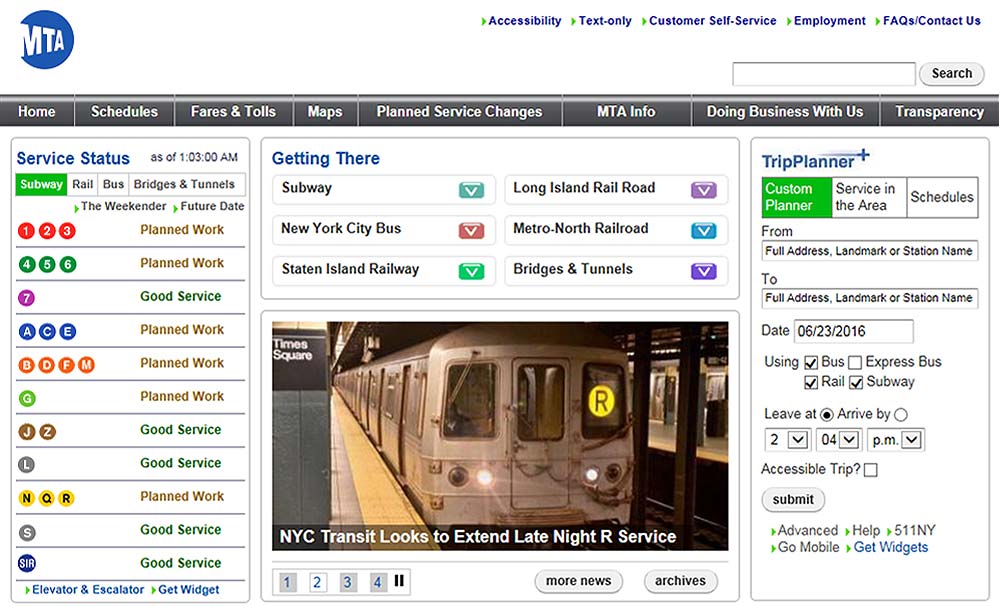 Metropolitan Transportation Authority's (MTA) Metro North Commuter Railroad Company has issued
a Task Order contract to PSI INTERNATIONAL, Inc. (PSI) through the Division of Materiel to seek
consultants to provide temporary information technology professional services for various development,
operations and maintenance projects. The contract has provision for requesting personnel in numerous information technology Job Titles and Categories (experience level).
Sponsoring Agency : New York City Transit Authority
Task Order Types : Time and Materials
Eligible Buyers : The MTA and all of its subsidiaries and affiliates that include: the New York City Transit Authority, Long Island Rail Road, Metro North Commuter Railroad Company, Long Island Bus, Triborough Bridge and Tunnel Authority, Staten Island Rapid Transit, MTA Construction Company, and MTA Bus Company.
Develop/maintain various microcomputer based application programs in a number of MTA operating environments including: Windows, Macintosh, UNIX/AIX, Oracle and Linux
Develop/maintain application programs written in Visual Basic, Oracle Forms, MS Access, HTML, FoxPro, Microfocus Cobol (NET Express), Java, PHP, and Visual C++.
Implement/Modify/Customize projects for off-the-shelf 3rd party application packages and technologies: PeopleSoft, Macola, KRONOS Workforce Central Time, MS Dynamics-AX, Hyperion Planning, Data Warehouse Technologies, Computerized Maintenance & Management System (CMMS), ESRI Arc Products for GIS applications, Document Management,
Project Management, and various Intelligent Transportation System applications involving manpower management, service planning and real-time control, acquisition and distribution of data
Develop and maintain SDLC documentation and user manuals for systems and applications
Test planning and execution utilizing automated test tools, such as HP Quality Center, HP QuickTest, Compuware, Rational, etc.
Planning, installation, maintenance and troubleshooting of microcomputers in both a PC and Macintosh environment and support of LAN (Novell and Windows), WAN and SAN hardware and software
Planning, installation, maintenance and troubleshooting of telecommunications services in both Avaya and Nortel PBX platform
Installation, configuration and tuning of Oracle Rack DB running on Oracle Linux in support
of PeopleSoft HRMS and Portal
Development and management of batch streams within a BMC Control-M environment
Integration and support of IVR/CCA and Oracle Seibel.